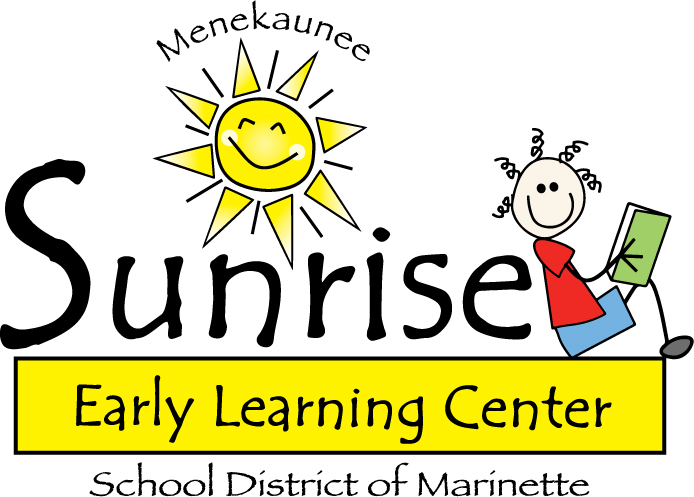 NEW! SUNRISE EARLY LEARNING CENTER!
YOU MAY HAVE HEARD! The Marinette School District has opened an Early Learning Center in Marinette! The ELC is located at 115 Hancock Street. And YES! it was formerly known as the Menekaunee Elementary School. The ELC houses Early Childhood, 4K students AND Kindergarten students for the Marinette School District! It is a new year, and it is a new "US!"
CONTACT THE ELC DIRECTLY AT: 715-735-2700
THE ELC SCHOOL START / END TIMES:
• Supervision on the playground is available for your child starting at 7:45 AM.
• Morning session begins at 8:05 AM and ends at 11:10am.
• PM supervision begins at 11:40AM.
• PM session begins at 11:45 AM and ends at 2:50PM
Are you looking for our school supply lists? You can find it here: Supply Lists
LOOK WHAT WE'RE CURRENTLY DOING! Take a look at this small sample of some of the things we've been doing with our students: video!
And check out one of the newest features of our Library Media Center:

Sesame Street E-Books!
Our Belief Statement: We believe that each child is a unique individual with their own special set of interests, needs and abilities. We plan and provide for safe and educationally centered environments that promote the children's social, emotional, physical and academic abilities, as well as, encouraging responsibility and independence in each of our young learners.
Our Values: Our program understands that early childhood is a unique and valuable stage of human development.
Our curriculum is based on child centered activities in mind and we understand that play is an important part of learning.
We value collaboration with peers, family and community to support the best interests of children.
Our Philosophy: We commit ourselves to shaping children to be enthusiastic learners now and throughout their lives. We do this by providing print rich environments and presenting children with a variety of experiences and materials, which allow them the time and opportunities to grow and develop at their own individual rate.
Questions &/or Problems? To contact Sunrise directly, call 715-735-2700.
Would you like to enroll your child in Marinette Schools' Early Learning Center? Or do you have questions about your child's eligibility? Call 715-735-1400 to speak with our District program staff.
If you have any problems with the links on this site, or are unable to download any of the information, please email our webmaster or call 715-735-1394.